I was going to select Ralph Macchio as today's subject. Unfortunately I overdosed on the various
Karate Kid
movies last weekend (seriously there was a marathon on every single day!). So today I will focus on an actress whose life on the big screen could use a jolt.
Geena Davis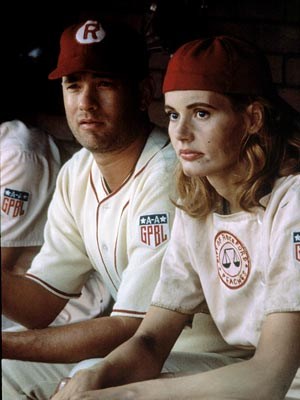 Career Highlights
:
The Fly (1986); Thelma & Louise (1991); A League of Their Own (1992); Beetle Juice (1988); Tootsie (1982); Fletch (1985); The Accidental Tourist (1988); Earth Girls are Easy (1988).
Low Points
:
Cutthroat Island (1995); Hero (1992); The Long Kiss Goodnight (1996), Speechless (1994); Angie (1994); Quick Change (1991); Transylvania 6-5000 (1985); Stuart Little (1999).
Last Seen On The Big Screen
:
Stuart Little 2 (2002)
Where You Will See Her Again
: Your guess is as good as mine. Ms. Davis has been stuck on the small screen for a few years now. She is the same age as Joan Allen, so clearly there is still time to stage a comeback of sorts.