This was originally posted in my 2008 Toronto Film Festival Recap. The review has been fixed up and re-posted as the film has finally be released in theatres.

The Other Man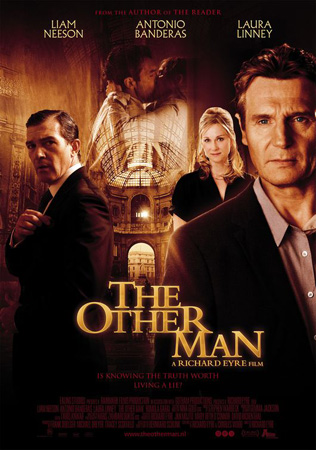 Richard Eyre follows up his brilliant film
Notes on a Scandal
, with this story about love, friendship and adultery. After losing his wife Lisa (Laura Linney) to cancer, Peter (Liam Neelson) discovers that she was having an affair with a man named Ralph (Antonio Banderas). Filled with anger Peter flies to Italy in hopes of tracking down, and killing, this mysterious Ralph. Once in Italy, Peter begins to play game of chess, both a literal and figuratively, with Ralph. While not revealing who he really is, Peter slowly tricks Ralph into opening up about the nature of his steamy relationship with Lisa.
While the premise is interesting,
The Other Man
does not have enough gas in it to sustain the whole film. The film ends up being merely average at best. While Neelson, Linney, and Banderas are all very talented and capable actors; they can only do so much with the material they are given. One thing I found interesting about this film was how each character viewed the affair. Peter, the cuckold, immediately wants to seek revenge. Ralph sees his time with Lisa as the greatest love story he has ever encountered. Whereas Lisa merely views it as nothing more than I choice she has the right to make. This view is also echoed in another film released already released this year
Cloud 9
, as well as the upcoming film
Partir
(which I saw at the '09 TIFF). One of the many issues I had with
The Other Man
is that it strives too hard to reach an ending that can only be described as neat. It seems like the last half of the film is merely one big set up for a rather substandard finale.
Looking for more
Big Thoughts From A Small Mind's 2009 Reviews
?