Paul Blart: Mall Cop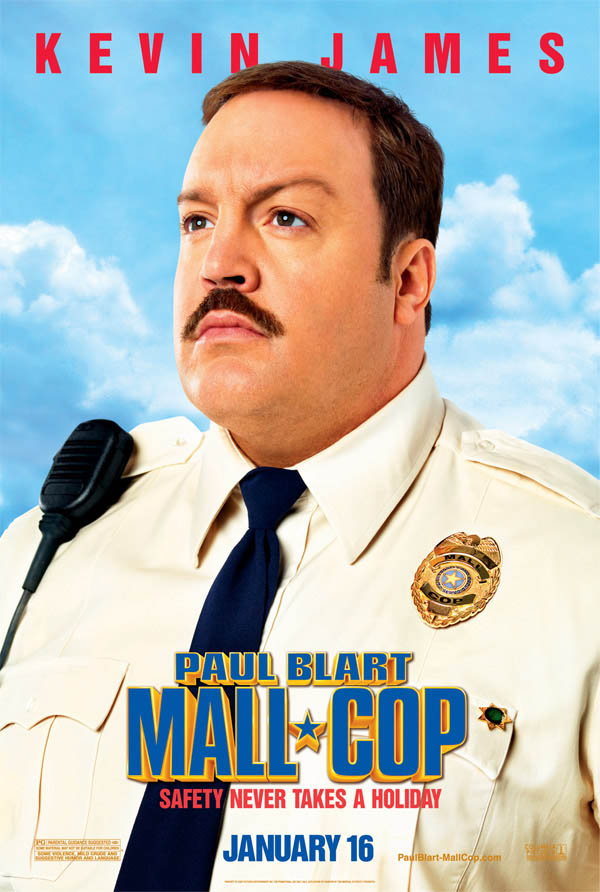 Paul Blart: Mall Cop
is the number one movie in North America for the second week in a row. To date the movie has grossed over 64 million dollars. That is right, Paul Blart Mall Cop! Take a few minutes to let that sink in. No, seriously I will wait… Now I know that humour is a subjective thing but I cannot fathom why this film is so popular. My guess is that Paul Blart: Mall Cop appeals to the same crowd that enjoy sitcoms such as
According to Jim
and
Two and a Half Men
were the situations and humour are comforting in there predictability. Unfortunately, I found that watching
Paul Blart: Mall Cop
was similar to listening to a bad stand-up comic. No matter how hard the comic tries, you ultimately know the punch-line to every one of his jokes…even before he is finishes the set up.
The main recurring punch-line in this film is that Paul Blart (Kevin James) is fat. After failing to make the grade at the New Jersey police academy, Blart takes up a job as a mall security guard. When he is not getting humiliated by mall customers, or teased by local store managers, he spends his time pining for the girl working at the hair extension kiosk (Jayma Mays). On one unfortunate day, the mall is hijacked by a bunch of skateboard/BMX riding criminals. Armed only with his trusty Segway, Paul must launch into action in an attempt to save the day. Yet can a man who chronically falls asleep without having sugar every 25 minutes really be a hero? Will he ever get the girl of his dreams? I am pretty sure that you already know the answer to both these questions.
Frankly, the only thing that you probably will not know going into the movie is that you are basically paying to see an hour and a half advertisement for Segways. If you ever encounter parkour loving criminals, make sure you have your Segway handy! Now I have heard several people try and justify this as merely a kid's film, which I find hard to believe for two reasons. The first is that there are very few situations in this film that would appeal to kids. Sure a kid will laugh at the idea of Paul eating candy off the floor, but the drunken bar scene will go over their heads. Secondly, the people that seemed to be laughing the loudest in the theatre were all adults.
The fact that Kevin James plays Blart straight does not help matters much either. Had the character been completely oblivious to the situations, ala Dumb and Dumber, it may have added something to the overall humour. Instead James wants to keep his character grounded in reality when everything around him is complete farce. The funniest moment in the entire film for me was when Paul was giving relationship advice to Pahud (Adhir Kalyan), a teenager with stalker like tendencies towards his girlfriend. The character of Pahud is humorously outlandish, yet he is the only character that truly fits the tone of the movie. Maybe if the rest of the characters were not so grounded this film might actually be worth recommending. Yet, as it stands, this is not even worth the cost of a rental.
For more reviews from 2009 click
here