I was originally going to talk about The Roots new album in this post. Instead I've decided to focus on another album that I purchased around the same time. I'll try to address The Roots in the next post.
Random Song 1
: TV on the Radio - Dirty Whirl
Random Song 2
: K'naan - Strugglin
The Dears - Gang of Losers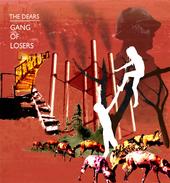 Buy
Gang of Losers is somewhat of a departure for The Dears; as a result some of their hardcore fans may need a few listens before it all sinks in. The band has traded in their well known, and beautifully dark, orchestral sound and produced a straightforward rock album. While on paper this may be cause for alarm, the stripped back sound fits the bands new optimistic outlook on life. The lead single "Ticket to Immortality", which was written for lead singer Murray Lightburn and keyboardist Natalia Yanchak's newborn daughter, immediately lets you know that you are not in typical Dears-land. The upbeat, and inspiring, tune is much livelier than previous songs by the band. Instead of wallowing in the muddy waters of our sorrows, the band wants to encourage people not to give up just yet. This becomes very evident on songs such as "Hate The Love" Although The Dears sound is much happier, they have not lost their political edge one bit. The track entitled "White Only Party" is a scathing look at racism in today's society (especially in the world of rock music). While the latter half of the album, which features "Fear Makes The World Go Around" "Ballad of Human Kindness" and "Find Our Way To Freedom", is very much focused on the United States current "War on Terror". People often do not to see their favourite bands changing directions. Yet in this case I think it works quite well. This slightly happier version of The Dears is definitely worth checking out. It will most likely take a few listens before it wins you over…but it will.
There is something about hearing a parent singing to their child "The world is really going to love you…I promise you" that gets me every time. "Ticket to Immortality" from the Gang of Losers LP:
Random Song 3
: Hidden Cameras - Awoo
Random Song 4
: Nas - It Ain't Hard To Tell
Ipod Workout Plan:
MSTRKRFT - Work On You
from the album,
Looks
. This is dedicated to all those people who could not afford Transformers back in the day. As a result, they had to settle for...(shudder)...
GoBots
.
Random Song 5
: The Most Serene Republic - Jazz Ordinaire
Random Song 6
: Classified - The Maritimes