I re-watched Spike Lee's documentary When The Levees Broke on the weekend. If you haven't seen the film yet I highly recommend it. Hopefully I'll be catching the Departed and The Prestige later on in the week. In a rather nostalgic mood today, which explains a few of the "random song" choices.
Random Song 1
: The Dirtbombs -
Do You See My Love (For You Growing)
Random Song 2
: Femi Kuti -
Truth Don' Die
K-OS – Atlantis: Hymns For Disco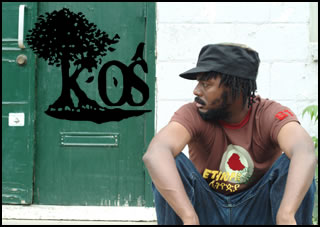 Buy
In the bouncy song "
FlyPaper
", K-os playfully states: " I'm not one to repeat myself/ but if it ain't broken, don't fix it." This line perfectly encapsulates his latest album, Atlantis: Hymns For Disco. On the album K-os repeats the genre-mashing formula that he flirted with on his debut Exit; and perfected on his Joyful Rebellion album. There is truly something for everyone on this album. At its core Atlantis is a hip-hop album, featuring great songs like "ELEctrik Heat-the seekwiLL" and "
Equalizer
" There are also elements of classic soul, dance (the infectious "Sunday Morning"), reggae, and rock. Indie music fans will gobble up the song "Valhalla," which features vocals by Sam Roberts and Broken Social Scene's Kevin Drew. K-os once again shows his spiritual side on "Ballad of Noah." The song not only features rappers Kamau and Buck 65; but it also has some of K-os' most personal rhymes to date. As an artist K-os continues to divide his time between singing and rapping. The most welcome changed between this album and Joyful Rebellion is the content. K-os spent the majority of his last two albums lamenting the current state of Rap. Chastising MC's for the lack of creativity in their beats and rhymes. While I agreed with his message, it did get tiring hearing it over and over. Thankfully on this album, K-os is happy to merely lead by example and let his music speak for itself. This allows K-os to be much more loose on this album. Instead of trying to save the hip-hop world, he is simply out to have a good time. As a result, Atlantis is K-os' best album yet.
Funny, I don't remember any of my teachers in high school being turntable specialist! Of course a lot of my memories are pieced together with old Degrassi episode; so for all I know it could have happened. Anyways, here is the video for "ELEctrik Heat-the seekwiLL":
Random Song 3
: Ghostface Killah -
Cher Chez La Ghost
Random Song 4
: Tokyo Police Club -
Box
Ipod Workout Plan:
Lady Sovereign - Love Me Hate Me
from her North American debut
Public Warning
(which comes out in a few weeks). The self -proclaimed "biggest midget in the game" has grown on me over the last year and a bit. She proved that she was much more than a female version of The streets in the UK. Unfortunately some people in North America are already dismissing her as mere a female Eminem. Hopefully, with this album, Lady Sovereign will finally get some notice for her own talent. (video version is a fan remix)
Random Song 5
: Tenacious D -
Tribute
Random Song 6
: Yodacock -
Shelby
Bonus
: Yodacock -
The Sun