Today's post takes a look at some artists who constantly push the boundaries of both the audio and visual medium. Okay, truth be told, it just an excuse for me to put up videos that I absolutely love:
Random Song 1
: The Artic Monkeys - When The Sun Goes Down
Outkast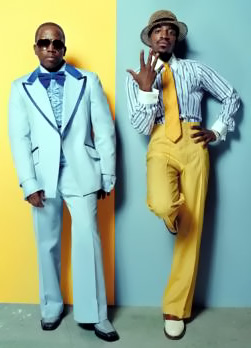 I think it is time to face the fact that "Hey Ya" may have officially ruined Outkast. Up until the release of that insanely catchy song, Outkast was viewed as one innovated entity. At least by those of us who followed the duo from their very first release
Southernplayalisticadillacmuzik
. Together Big Boi and Andre 3000 introduced a new style of southern hip-hop music in the 90's. Every album they released was more creative and daring than the last. Then came the release of
Speakerboxxx/The Love Below
and things will never be the same again. Now when most people think of Outkast, they only think of Andre 3000. The funny thing is, Big Boi's half of the album (Speakerboxx) was much stronger than Andre's (The Love Below). While Big Boi continues to make music, Andre is now focusing on the greener pastures of Hollywood. Which brings us to Idlewild, the Outkast movie musical and companion album of the same name. The musical is set in the 1930's but the trailer doesn't give too much away plot wise. The first single off the album, The Mighty O, is no better at divulging anything either. To be honest, I found the song to be a little disappointing compared to their earlier work (eg. Rosa Parks, etc...). Many are speculating that this will be the last Outkast album. A recent interview in Entertainment Weekly only helped to fuel those rumors further. If this is in fact the last Outkast album, I hope they go out in a bang an not a whimper.
Here is one of my all-time favorite songs "B.O.B" from the
Stankonia
album.
As a bonus, here is "ATLien" from the
ATLien
album:
Random Song 2: Method Man (feat. Mary J. Blige) - All I Need
Bjork
When it comes to movie musicals, Bjork has been there done that. She found modest indie success and surprisingly decent reviews for her work in the film Dancer in the Dark. I've been a huge fan of Bjork for quite sometime now, yes swan dress and all, which makes it hard to select a favorite video. Personally can't think of any artist that has had such a unique canon of videos. This is partly due to the fact that Bjork's musical style is so different from most artists. If it is not an experiment of some sort then it is not music to her. Bjork's songs are constantly being covered by the most unlikely of artist (both indie and mainstream). Many underground dj's love remixing her work, which is evident by the countless number of alternate versions that can be found online. Although I tend to enjoy Bjork's songs in their original form; remixes for songs like Isobel, Army of Me, and Bachelorette do provide another interesting layer to Bjork's tunes. After releasing her quasi acoustic album Medulla, Bjork took some time of to film the indie film Drawing Restraints 9 (which was released earlier this year). Apparently she will be heading back to the studio shortly to work on material for her next album.
Here is the classic video for "Human Behavior" off of the
Post
album:
Also, check out the futuristic video for "All Is Full Of Love" from
Homogenic
:
Random Song 3
: Vanilla Ice - Ice Ice Baby
Ipod Workout Plan:
Chemical Brothers - Let Forever Be
from
Surrender
: