Have you ever received a mixed tape/cd from a friend? Ever falling in love with a song/artist that you had never heard up until that point? Welcome to
Summer Burn
a worldwide sharing of mix cds. I discovered Summer Burn a few weeks ago via a post on
The Sho'Nuff
(Radiohead fans should see Keith's latest post asap), yet I did not get around to signing up until recently. The premise is simple: create your perfect summer mix cd, make two copies, mail both copies to worldly addresses provided, wait, and receive cds from two other summer burn members. The hardest part of the whole process is choosing what you are going to put on the mix. Similar to this blog, my cd is probably going to be one odd mix of genres (my apologies to whomever ends up getting it).
Random Song 1:
Billie Holiday - Travlin' Light
Sunset Rubdown - Shut Up I Am Dreaming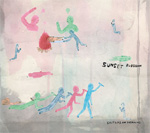 Buy
Sunset Rubdown is singer/songwriter Spencer Krug's latest side project. Although still relatively unknown, Krug received a lot of attention last year for his work on the Wolf Parade album. Although Sunset Rubdown should be judged on their own merits, I think your enjoyment of this album will depend on how much you like Krug's songs for Wolf Parade. A lot of the themes are similar, yet the album is not as upbeat/fast paced. If you have never heard of Wolf Parade before, then Sunset Rubdown will definitely be a unique listing experience. Songs like the haunting Stadiums and Shrines II, and the bouncy They Took a Vote and Said No are good examples of what you will find on the album. Overall this is a strong debut album from the group, though I wish the second half of the album was a good as the first half. I found the latter part of the album lagged a bit. It would have also been nice if the dream-like song A Day in the Graveyard II (from their EP) had made the cut.
I'm not going to lie; this "fan made" video for "Us Ones in Between" makes no sense whatsoever. Regardless the song is nice:
Random Song 2
: Thom Yorke - The Eraser
Cadence Weapon - Breaking Kayfabe
Buy
I was going to hold off talking about this album until the Stanely Cup playoffs were over. Then it dawned on me that they are still playing hockey in June!!! Seriously, Mr. Bettman cut down the regular season a few games will ya. Hailing from Edmonton (a.k.a. The City of Champions), 19 year-old Rollie "Cadence Weapon" Pemberton has already lived a rather interesting life. He started off writing music reviews for online sites like Pitchfork before pursuing his own rap career. Lyrically speaking Rollie is a very talented MC, but what distinguishes him apart from other artists are his beats. Pemberton favors electronic sounds than the more popular Lil' Jon (yay, okay) crunk-style bass. This has helped Cadence to slowly built a name for himself as a producer (working on remixes for artist like Lady Sovereign, etc...). Breaking Kayfabe, his debut LP, proudly displays both his special brand of electro rap and his Canadian roots. This is evident in tracks like Oliver Square and Sharks. Despite a few instances where Cadence relies a little to heavily on the electronics, Breaking Kayfabe is a promising debut from an gifted individual. For more information on Cadence Weapon check out his blog
RazorBlade Runner
The lead off single "Black Hand" from Breaking Kayfabe:
Random Song 3
: The White Stripes - We're Going To Be Friends
Pete Rock & CL Smoot - The Main Ingredient
Buy
I was originally planning to post a mini review of the new Raconteurs album as it finally arrived in the mail last week. This all changed due to a recent trip to the mall. While on a mission to pick up the
Venture Bros
DVD; I came across an album from a group I absolutely loved in the early 90's. Pete Rock & CL Smooth are high on my list of the most influential hip-hop artist in the 90s (along with A Tribe Called Quest, and a few others). So when I saw that the store had their The Main Ingredient LP for a mere $10, purchasing it was a no-brainer. Released in 1994, The Main Ingredient had the tough task of following up the duo's superb Mecca and the Soul Brother album (a must have for any music lover). Needless to say, they succeeded with flying colours. 12 years later and both albums still hold up extremely well. So long story short, I will have my mini review of the Raconteurs debut album in my next post.
Now for a trip down memory lane, here is "I've Gotta Love" from The Main Ingredient:
And the song that I have sung more times than the national anthem (I kid you not), the fantastic "They Reminise Over You (T.R.O.Y)" from Mecca and the Soul Brother:
IPod Workout Plan:
The Von Bondies - C'mon C'mon
from
Pawn Shoppe Heart
(although most will recognize the song from Denis Leary's drama Rescue Me, which premiered two years after this album was released)
*new season of Entourage starts in one week (June 11)