As Britney's parental woes fills the airwaves (seriously, is this considered news nowadays?), I decided to post a slightly pop inspired selection today.
Random Song 1
: Fela Kuti – Water No Get Enemy
Nelly Furtado
Pop music is probably one of the most ruthless facets of the music business to be in. Very few musical genres create and destroy artist as quickly as mainstream pop. Hence why so many artists are constantly "reinventing" themselves in attempts to stay one step ahead. Since Madonna has basically become the blue print for most female pop singers, it was rather interesting watching Nelly Furtado perform on the season finale of SNL. Furtado has reinvented herself with every album to varying degrees of success. I remember picking up her debut album
Whoa. Nelly!
and enjoying the fact that it was one big melting pot of musical genres. Gwen Stefani would use the same formula five years later to even bigger success on her own debut solo album. The Whoa. Nelly! album, and her collaboration with Missy Elliott on Missy's hit single "Get Ur Freak On", showed Nelly Furtado as fun-loving music sponge. Of course all this changed with the release of
Folklore
, her "more "grown-up" album, and Nelly has never been the same since. With
Folklore
, Furtado was determined to portray herself as a serious singer with a message. Nelly was now a mother, which provided her with a more serious and uplifting outlook on life. Sadly this did not translate well musically and the album was considered a major disappointment. Which brings us to the latest incarnation of Nelly Furtado…sexy dance diva. Her latest album titled
Loose
hits stores in June; and includes tracks like
Maneater
and Undercover. These songs show Nelly striving for a sexier image, while still trying to satisfy her younger pop fan base. Will the new version of Nelly Furtado be a hit? Probably, as sex always sells in pop music. Will
Loose
be any good musically? That still remains to be seen. Although based on the songs I've heard so far (the catchy "promiscuous" excluded), the outlook is pretty grim.
Here is the 80's influenced lead off single "Promiscuous" (which features Timberland):
Random Song 2
: Michael Jackson - Wanna Be Starting
Basement Jaxx
If you are looking for dance music that will not disappoint, you cannot go wrong with the Basement Jaxx. Ever since the release of their debut album
Remedy
, this UK duo has created one hit after the next. Despite the huge international success of songs like "Red Alert" and "Rendez-vu", for some reason North America never really took notice. That was until the Basement Jaxx released their follow up album entitled
Rooty
. The album had several hits but nothing as huge as the insanely popular single "Where's Your Head At?" You could not go anywhere in the summer of 2001 without hearing the song. Heck, even Pringles was using it to promote their chips. The song nearly overshadowed the other great tracks on the album. Although their last release
Kish Kash
was not as successful as Rooty, it was still another solid effort. If you are in the mood for consistently good songs to get your booty shaking, look no further then these guys.
Have you ever wondered what would happen if you mixed Bollywood with house music? Well here is your answer..."Romeo" from the
Rooty
album:
Random Song 3
: The Decemberist - Human Behavior (Bjork Cover)
Pharrell Williams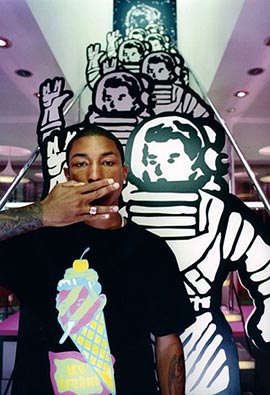 Even if the name Pharrell Williams doesn't immediately jump out at you; chances are very good that you have danced to several of his beats. Pharrell is one half of the production team known as The Neptunes. He is responsible for hits like: Nelly's "Hot in Herre", Gwen's "Hollaback Girl", and Snoop Dogg's "Drop it Like It's Hot" just to name a few. While most producers would be happy to rest on their laurels, Pharrell has been trying to make a name for himself as an artist for a few years now. He, along with fellow Neptune Chad Hugo, formed the band N.E.R.D a few years back and released two moderately received albums. N.E.R.D was a place were Williams and Hugo could divulge in their love of Rock, Funk, R& B, etc…it was a far cry from their work with Jay-Z and Britney Spears. Although I really enjoyed N.E.R.D's albums, they never found true success nor do I think they will in the future. The problem is that they were too hip-hop/r&b for the alternative rock community; and too alternative for the hip-hop/r&b community. As the band is currently in contract disputes with Virgin Records, Pharrell has opted to release his debut solo album,
In My Mind
, in the meantime. I am very curious to hear what the full album will sound like. Mainly due to the fact that I have always thought of Pharrell as a supporting character rather than the main star. Vocally speaking, he is not necessarily the strongest singer, nor is he the strongest rapper. Just listen to "Can I Have It Like That"(featuring Gwen Stefani), "Mamacita" , and the awful Number 1"(featuring Kanye West) for examples of this. Yet he does know how to incorporate great beats to mask his limitation. Regardless, you know Pharrell will at least be bringing a few new surprises to the table.
Here is "Angel" from
In My Mind
IPod Workout Plan track of the day:
Yeah Yeah Yeah's "Gold Lion"
off of
Show Your Bones
. Honestly, I'm not a big fan of yyy's but this song is a great motivator when at the gym.
Until next week,
CS